School Council
Why we have a School Council
The School's Council is an ideal opportunity for pupils to get more involved in the way the school is run.
The School Council benefits the whole school, pupils and teachers, because it provides opportunities for pupils to communicate their feelings as well as influence decisions that are made. Councillors develop skills such as confidence, communication and negotiation. It is the responsibility of each Councillor to ensure that they express both their own views and the views of all the other pupils they represent.
How members of the council are selected
Each child creates a manifesto which is then presented to their class.
The manifesto details what they would like to achieve if they were to be elected as a councillor. One member is elected from each class based on votes from their classmates. The council then votes for a Chair, a Vice Chair and a Secretary.
Our School Council
On Thursday morning, Key Stage 2 and the School Councillors had a visit from the Mayor and the Mayoress of Kirklees. The School Councillors met with them first and asked many questions about the role of the Mayor. The Councillors were also given a badge, representing the Kirklees coat of arms. The Mayor and the Mayoress then led an assembly for the rest of Key Stage 2, in which they were told about how the Mayor first became a councillor and the role he now takes within the community. A key message the Mayor shared with the children was one of determination and aspiration. In addition to this, the Mayor's Civic Attendant then explained all about the Mayor's formal dress code and even allowed two children to dress up as the Mayor. The visit was thoroughly enjoyed by the children and equally the Mayor and the Mayoress commented on how much they value this kind of visit and thanked us for the school's support.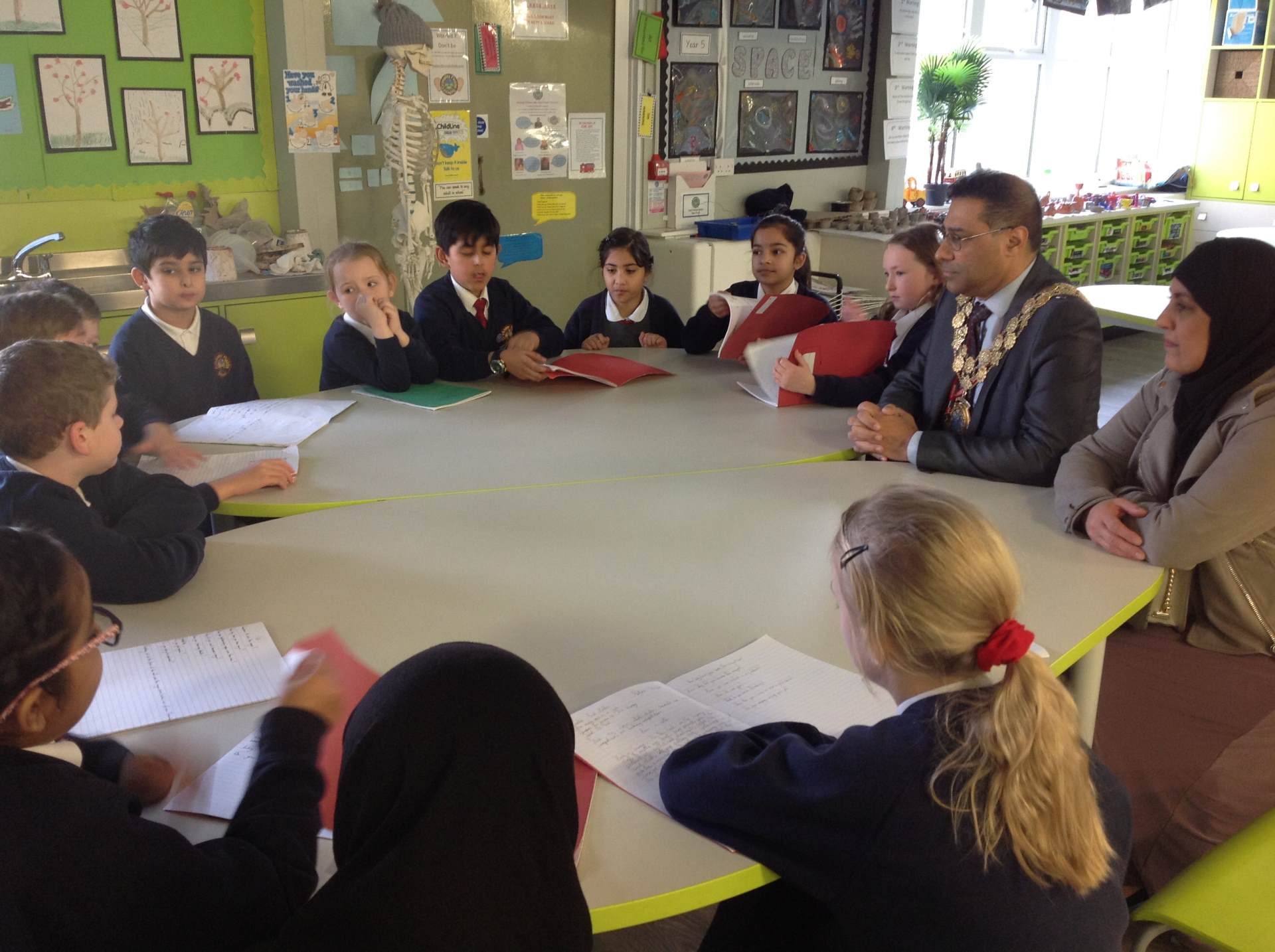 We are very excited to introduce our Crossley Fields School Council for this academic year! This year, the School Council will be run by Zakariya (2KK), Darcy (2SL), Noah (2KW), Edith (3AS), Megan (3TR), Liyana (3KR), Zulaykha (4JB), Ben (4AP), Abdullah (4TJ), Khalid (5AH), Safa (5MC), Safa (5BF), Oliver (6GG), Isa (6LC) and Zahida (6MR).
The children will attend weekly meetings on Wednesday lunchtimes at 12:30pm. Our first meeting was held this week and the councillors received their new School Council badges. During the meeting, children discussed their first job, which will be to run a meeting with Mr Long on Wednesday 23rd October. The councillors will be putting forward any questions they themselves or their peers have and feeding back relevant information to their classes.